Rainey Street Historic District, known to locals as Rainey, is the epicenter of #KeepAustinWeird as the entire street is dotted with quirky local bars and Austin's trademark food trucks, all dog-friendly of course. Unique to Austin, Rainey bestows a rich and complicated history. Built in 1934, the single-family bungalow-style homes housed a diverse community of working class people, but after a long-winded history—including the creation of the I-35—the old residences have since been occupied by bars and eateries that draw crowds from around the world. Today, you can see an even more diverse spectrum of people bar-hopping and hanging out on patios seven days a week and, with the addition of high-end apartment buildings, you can be close to the action and return quickly (maybe with a little buzz) to the comforts of your home. However, drinking and eating isn't the only perks of living on Rainey Street, we've provided three more reasons why we really love living on Rainey Street below.
Proximity to Lady Bird Lake and the Ann and Roy Butler Hike & Bike Trail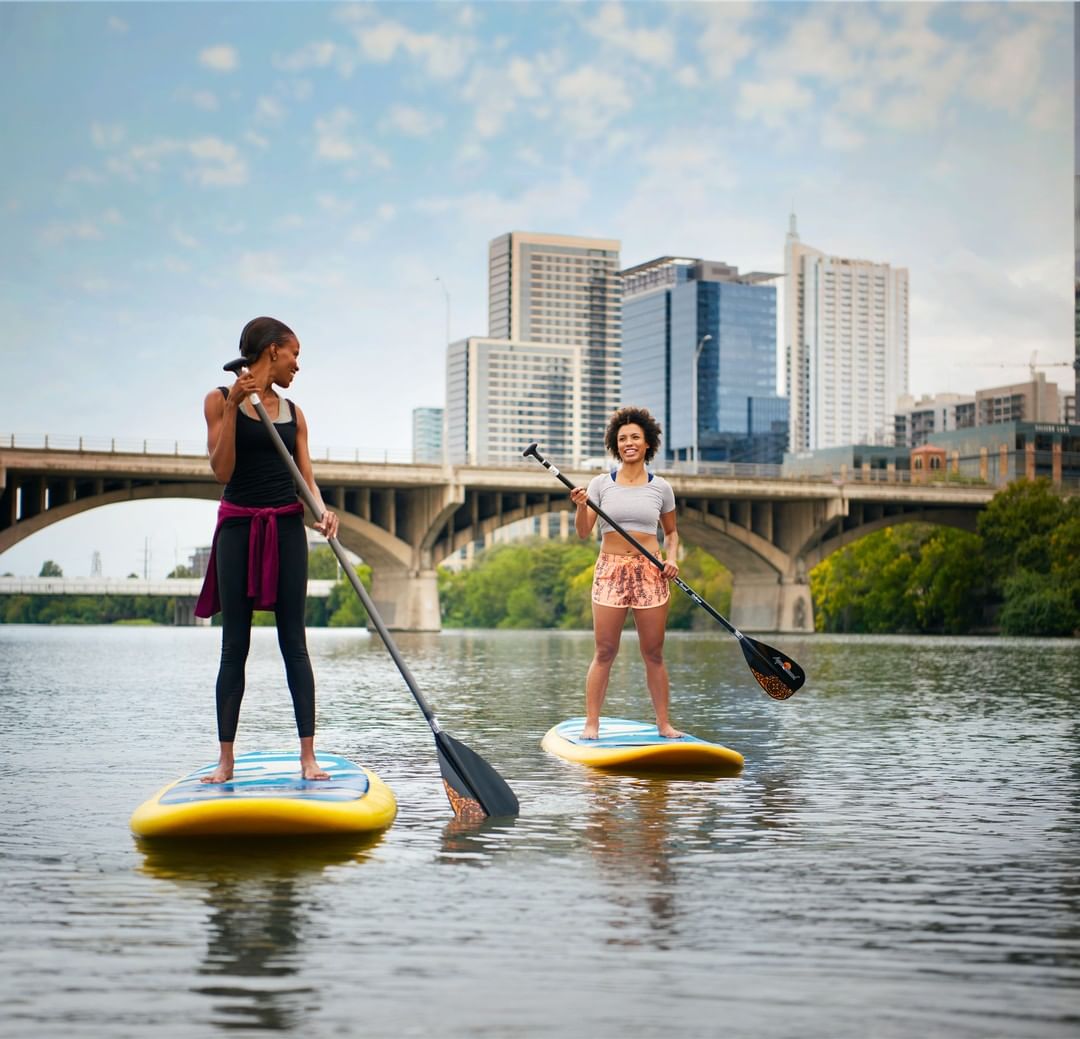 New York has Central Park; Austin has Lady Bird Lake. Experience the great outdoors without relinquishing city-living. Our Rainey Street apartments are just an 8 minute walk to Lady Bird Lake as well as the Ann and Roy Butler Hike & Bike Trail that surrounds it. The lush and urban 10-mile trail along the water's edge is the perfect place for a brisk walk, long run, bike ride, and paddle-boarding entrance—ideal for social distancing or safely catching up with friends during these strange times. Noted as one of our favorite parts of Austin, the outdoor nature trail connects to the overwater boardwalk and travels through neighborhoods, skyscrapers, many parks including Auditorium Shores and Zilker, and other ATX attractions.
Proximity to (Pretty Much) Everything Else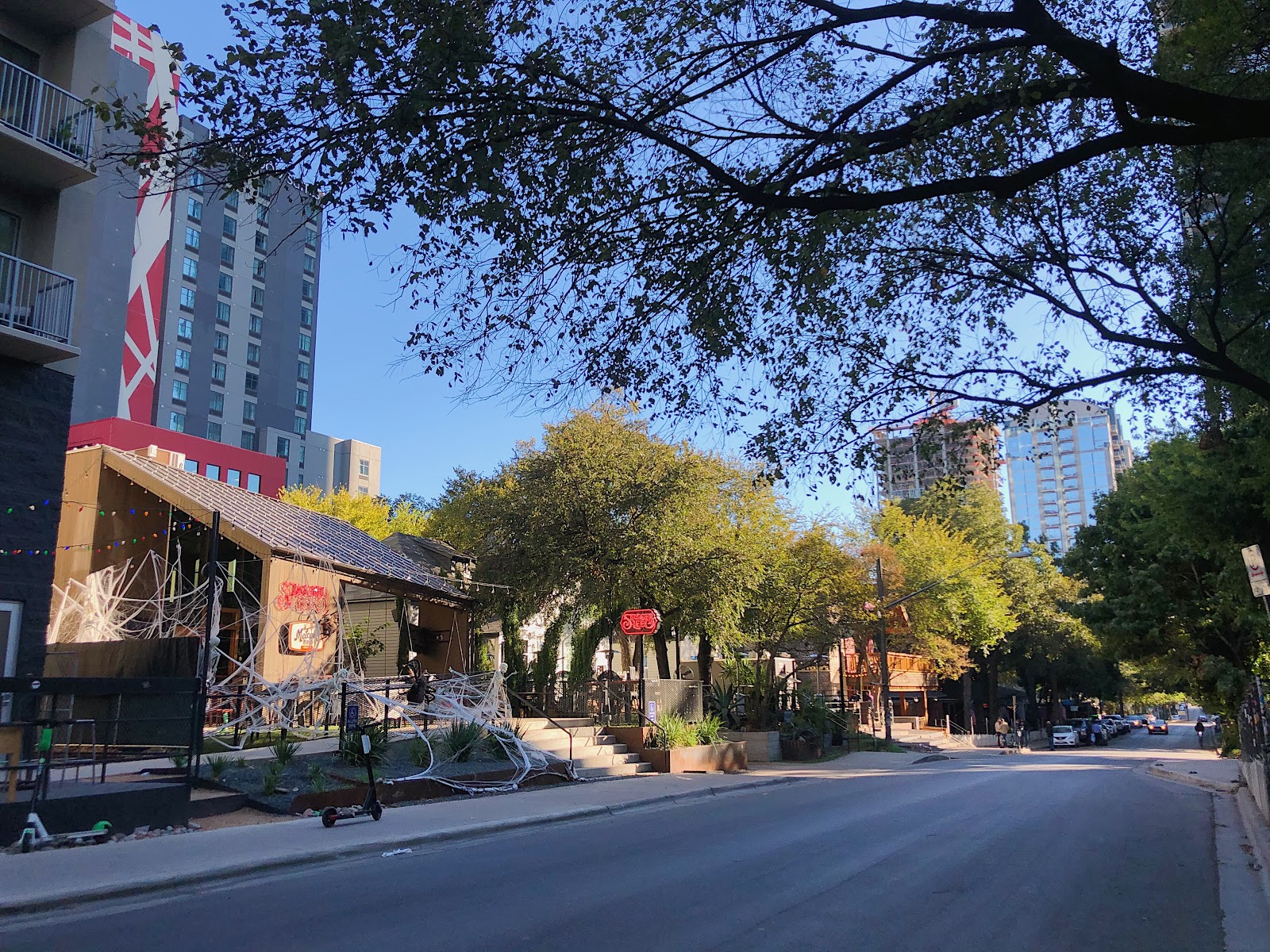 Photo by Casey Berg
We talked about the quirky bars and food trucks right outside your door, but did we mention the over 58 restaurants within a 0.5 mile radius? Rainey Street, located in the southeast corner of downtown, is close to everything you get in the heart of downtown Austin as well as footsteps away from the newly-developed Whole Foods, Target, Chipotle, and other places on E. 5th Street. Not to mention, Rainey Street is right next to the I-35 so you can get anywhere else in Austin with ease and maybe just a little traffic...
Rooftop Pools and other Luxurious Amenities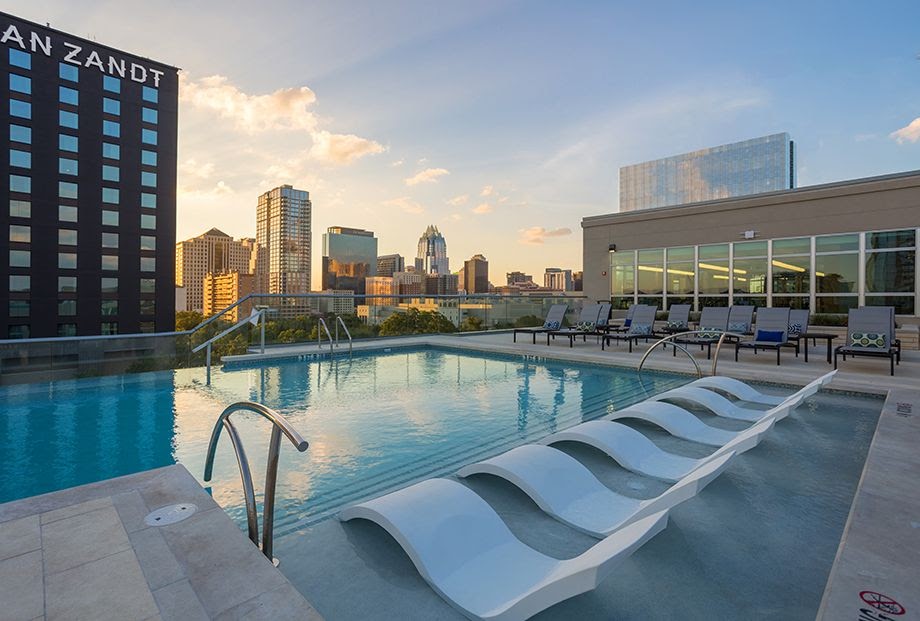 Our Rainey Street apartments have one of the best rooftop pools in Austin (we might be slightly biased). Along with a great pool, there is a fully-equipped gym and a party-friendly common area harboring the same view. In addition, your flexible lease comes with an on-site dog park for your canine companion, Tide dry cleaning and package lockers, safe bike storage, shared office space, and more. We couldn't think of a better place to work from home.